Happy new year! In December, I got
my first sponsored blog post
, spent 4 days reading everything I could get my hands on that my bestie and I had written between 2011-2013 and watched a surprising amount of TV shows and movies. It wasn't the most productive month, but since 2018 starts on a Monday we can all agree that 2017 counted for nothing and this is the year to get shit done, right? Right. That's what I thought too.
Read on for what I spent time procrasinating on last month and mini reviews of media consumed.
I kinda got off track with my regular reading pattern when I moved from Taiwan to Australia which can be forgiven, I think, but it does mean that I didn't manage to complete my Goodreads goal. After spending most of the year on track or ahead, I'll admit that I'm disappointed. Ah, well. Click on the covers to
go to the book on Goodreads.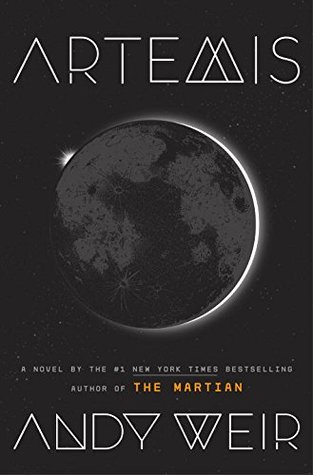 Bury My Clothes, Roger Bonair-Agard
- I was really hyped for this because I love his poem, 'Your Bed Is Too Small for Fucking and Poetry', but nothing really stood out to me in this. There were a few lines I loved and took a screenshot of for remembering in the future, but Bury My Clothes isn't one of my favourites.
Artemis, Andy Weir
- OMG, I can't believe I let so much time pass before I finally read this but just like Weirs' debut, The Martian, I loved every single page of this. His writing is witty and down to earth, the science parts are interesting (even if I have no clue how accurate they might be) and the plot is high stakes, character driven and leaves you on the edge of your seat. Ten out of ten, highly recommend.
It's very possible that I went on a bit of a Patrick Brammel binge in December but his work is brilliant and I'm not ashamed of my obsession one bit. We cancelled our Netflix subscription to replace it with Stan and, let me tell you, it's been great. I didn't realise how much of a struggle it was to find something new and interesting on Netflix until I got Stan. I'm not going back for a while.
No Activity (Aus)
- Who'd've thought that a show about a stakeout could be funny? Not me. I did not think it would be funny, but it was. The script is incredible and witty and perfect. There's laughs, then just as you're getting over the last giggle fit something happens to set off another one. Comedy gold.
No Activity (U.S)
- I recommend watching all of the original first (the Aus version) because it's the usual American remake thing of the same plot and essentially the same script and if you watch it the other way round, it hinders the enjoyment a little. Despite the similarities, both versions of the show are brilliant all the way through.
The Moodys
- The entire first season is set at Christmas, which was a surprise for me, but since it's December it was pretty fitting. Season two takes a different direction, but the script follows a predictable formula (with just a few episodes veering from it) that still manages to be hilarious episode after episode. Again, this series is full of belly laughs.
Upper Middle Bogan
- Continuing the Patrick Brammel obsession, this is the only show I watched last month that I wasn't in love with. Saying that, I still want to watch it all. It's kinda like seeing a car crash - you don't wanna look away. Slightly addicting, not nearly enough Patrick Brammel for my liking, but full of drama and dramatic characters.
Wolf Creek (TV)
- Originally, I wasn't going to watch this but when Neil saw the trailer for season 2 and said it looked good we decided to and
thank God we did
because it's was brilliant. The movie sends me to sleep, so I was worried, and while at some points this was a little slow for my liking, it was still 100% enjoyable. Not to mention, the cinematography is incredible. Like, The Scorch Trials shot-in-the-desert incredible, which is just about my favourite moment in cinema. S1 is slow paced due to having just the one main character, but S2 goes a lot faster (we watched it in half a day, oops). We're praying for a third season. They left it open enough for it and we just can't get enough of John Jarrat as a villian.
Arrival
- I've wanted to watch this forever and was going to watch it with Neil, but he's not the biggest sci-fi fan anyway so I went ahead and watched it without him. I've gotta say, I love the sort of slow-literature feeling that sci-fi movies have been having in recent years (can you tell I haven't studied cinema?), even if it means I have to be in a certain mood to sit through a movie. (I'll binge watch 45 minutes, 24 episodes season with no problem but 2 hours on a movie if I'm not in the cinema is a struggle). While not my favourite, especially since the time thing just seemed like a bit of a cop out for explaining anything, it's was weirdly relaxing and I loved the unique aspect of linguistics in it (very, very pretty).
Ruben Guthrie
- Films about problems like alcoholism are always rocky ground and I don't really know what to say about this without being spoilery. Patrick Brammel played his role incredibly and it was good, but I'm gonna nit pick because I'm not happy about the whole 'love is all I need' aspect of it. Sorry about the spoilers, but I'm just not buying that his partner leaving him didn't make it more difficult for him to abstain from drinking. No relapse within the first few months, he had alcohol in the house without caving, seemingly went cold turkey with no trouble...? If you don't look too far into it, you can enjoy this film, but once you start analysing the enjoyment is tampered a bit. Also, fleeting mention of A Million Little Pieces by James Frey that makes me happy because that book doesn't get enough attention.
Rogue
- We followed John Jarrat from Wolf Creek to this film, hoping to get more of an actor we enjoyed and finding ourselves really surprised by the role he had in this. Truly, that man is fantastic. He was unrecognisable. We had to consult IMDb just to be sure who his character was. Aside from that, we didn't really have any expectation of enjoying this film but oh my God we were so wrong. It was suspenseful and there were plot twists everywhere and just. Damn brother. Damn.
Lake Placid
- Since we enjoyed Rogue so much, we decided to watch the original Croc 'horror'. I had my doubts when I realised that it was from '99, but they were quickly rectified because... well, it's good. It has a good script. It's funny. They use visual humour really well. There's suspense. I'm not saying it's a groundbreaking concept or anything, not at all, but I did genuinely enjoy this movie and for such an overdone concept (pre-historic creature vs humans), it was not at all the disappointment I was expecting.
Walking Tall
- We usually enjoy the films that Dwayne Johnson is in from an easy watching perspective, so when we were struggling to find something that appealed to us and weren't sure whether we had the attention span for a movie anyway, we put this on. We ended up watching it in two parts (I guess we didn't have the attention span) and the one critique I have for it is that the first 28 minutes could've been condensed and the pacing would have been far better for it. But, ya know, it was enjoyable aside from that.
Wolf Creek
- Having finished the TV series, we still wanted to exist in the Wolf Creek verse for a while longer. I remember watching this movie during sleepovers when I was younger and have always been so bored by it, but watching it when I was older made it much more enjoyable. The start is very slow and there's a opening credit road trip scene that is far too lengthy, but that's just typical of the time this film was created. Not as good as the TV series, but not the snoozefest I recall it being.
Wolf Creek 2
- Are we obsessed? Probably. Do we want to visit Wolfe Creek Crater ourselves just because of the series? Almost definitely. Did the 2nd film have better pacing and more plot twists than the first? You bet'cha. The action gets started immediately, and it's graphic and gruesome and wonderful. Then there's more murder and plot twists and DAYUM. This is why they made it into a TV series too. This is the movie that allows that to happen.
My
favourite fanfic writer
introduced me to Be More Chill and now I'm obsessed. I
listen to the soundtrack
daily. No, I do not need help. In general, I'm just on a musical soundtrack binge right now. The Wombats are killing it with their latest releases and I'm living for Beautiful People Will Ruin Your Life. Plus, listening to my favourite lyrical geniuses and music from my teenager years. No regrets.
My bestie and I started writing together again after taking a ridiculous break from it because we're in our 20s and have lives now, y'all. I've missed writing with her on a daily basis and it's bringing me so much joy now that we're back into the routine of it. Teenage!Astrid would be happy about this. So together we've written SO MANY words in December, even with the time differences between England and Australia. I tried to copy and paste everything into a word document (we use Facebook, Skype and WhatsApp) but then by the time I had everything from the 1st December I ran out of steam. It was at about 3000 words at that point. It's been a wild ride, let me tell you.
I also sent a list of eleven story ideas to previously mentioned best friend and made her vote for her two favourites. If you can't decide what to work on by yourself, make someone else do it for you, that's what I always say. Between the two she voted on and the two half-finished drafts I worked on this year, I've got a good idea of how I'm going to spend 2018. Oh, and I made some covers for them. Here they are, working titles an' all.
What have you read, watched, listened and loved recently? Tell me in the comments and don't forget to subscribe for more posts like this.