Last year, I spent time between lessons with my head buried in a book, but despite that didn't read a lot. Even more surprising, as I look back on my year in books, I found that the majority of them I wasn't a huge fan of. Despite that, there are still a few books that I read last year worth mentioning.
___
1. The Elvis Room by Stephen Graham Jones
This short horror story has stuck with me since I read in. No spoilers, but I get a little creeped out when I'm in an elevator now. For that, and the fact the it was so thought provoking - I love anything that looks at something from a different angle - The Elvis Room has to make the list for best books of 2017.
2. Piper Perish by Kayla Cagan
Easily one of my favourites last year, Piper Perish is the first book that came to mind when I set about writing this list. The main character, Piper, encompasse all I want to be - she's full of creative talent and disipline and spends her days with her equally talented, creative friends. If I could enter the world of one book, it'd be this one. The best part? No romance!
3. P.S. Your Not Listening by Eleanor Craig
In an effort to read more non-fiction, I was searching Kindle Unlimited for books on writing when I came across this instead. First published in 1972, it follows a year in the life of a teacher and her five students, all with different problems, in one of the first classes of its kind. Over the course of the book (and the year), it's nice to see both the teacher and the students grow and improve.
4. Noteworthy by Riley Redgate
The only reason I read this book was because I can't resist anything where music and school collide. Those kinds of stories tend to be a bunch of fluff, but I enjoy them all the same. This one features acapella AND a girl pretending to be a boy to follow her dreams so... what a great combination, am I right? I'm right. As expected, this was just a fun little read, nothing serious, but one of my favourites from 2017 all the same.
5. One of Us Is Lying by Karen M McManus
I hesitated to list this one, but months after reading it I still think about it. I'm not saying it was the most unique story I've read - it reminded me of Pretty Little Liars, to be honest, with a bit less glamour - but the characters intrigued me. Some of them I hated, others I was rooting for, but all the same, something kept me reading this story even when I was convinced it wasn't going to hold my attention for long, so it deserves a mention on this list.
6. It Only Happens in the Movies by Holly Bourne
Holly Bourne is easily one of my favourite authors and I've loved her books since The Manifesto On How To Be Interesting (I'm not a fan of Soulmates, but that's it). Maybe it's because she's an English writer, so the teen culture is more representative of something I recognize than other books, but I find her stories so grounded in reality. Saying that, there's always enough 'drama' going on to keep me reading. So, without a doubt, It Only Happens in the Movies is one of the best books I read last year.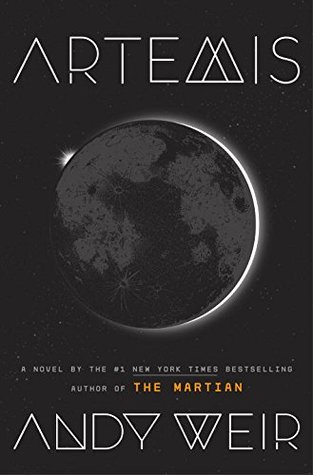 7. Artemis by Andy Weir
Since I love The Martian (the book, which is awesome and entertaining, not the movie, which is terrible and boring), I was pretty nervous about whether or not Artemis would hold up to my high expectations. Luckily enough, it did. Weir is a fantastic, witty writer and his characters are so endearing. I want to live in Artemis, I want more stories about Artemis... I just can't get enough of this book, guys. If someone wants to fangirl over it with me, I'm right here, waiting.
___
So, despite the fact that I didn't read as much as I'd hoped to and the majority of what I read didn't stand out at all, so it was fairly easy to pick these seven as the best books of the year. Hopefully, 2018 will be a better book year.
Tell me about the best books you read last year and
don't forget to subscribe
if you enjoyed this post!