Last month, I started drafting a new novel, moved six times and binged watch more TV than I'd like to admit. Like, I'm embarrassed about it and I don't get embarrassed about binge watching TV. Oh, and when I wasn't doing that, I was rereading my favourite fanfiction. If I hadn't spent so much time doing that, I could've read a whole lot more this month. Read on to find out my thoughts on this months only reading choice.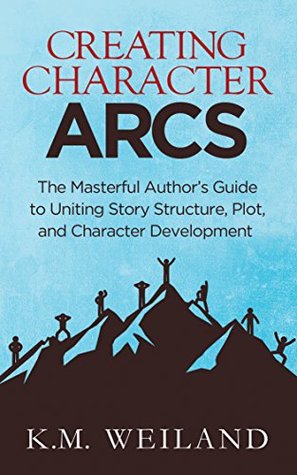 Creative Character Arcs by K.M. Weiland
Amazon Kindle
"

Have you written a story with an exciting concept and interesting characters—but it just isn't grabbing the attention of readers or agents? It's time to look deeper into the story beats that create realistic and compelling character arcs. Internationally published, award-winning novelist K.M. Weiland shares her acclaimed method for achieving memorable and moving character arcs in every book you write."
Any writer whose spent any time online reading about how to improve their craft has probably come across K.M. Weiland. I constantly refer to her blog posts when I'm in the planning process of a new novel, but I knew that my latest writing project was going to be very character driven and wanted to keep my educational reading in line with that. The greatest thing about this book is that all the information is well divided, so you can read a section then easily go back for the rest later if you don't have time to read it in one sitting. It also kinda wanna makes me buy loads of stationary and make pretty notes.

That's it for November, but I'm hoping to read a few more books in December. I have a Goodreads goal to reach and I want to clear my NetGalley reading list for the new year.

Tell me what you've read and loved recently in the comments and don't forget to subscribe to stay updated on the latest posts!