October was a busy month. I spent two weeks travelling around Taiwan, went to Malaysia and moved to Australia. I took hundreds of photos that needed to be edited, gave myself a self-imposed deadline to finish writing all my Taiwan blog posts by the end of the month and tried to come up with more than a plot bunny for this years NaNoWriMo project.
But, with so many books coming out that I was excited for, I did manage to make time to read (like in luxurious hotel baths with jets or while waiting two hours at the station for my train). So what was on that list?
The Sun and Her Flowers by Rupi Kaur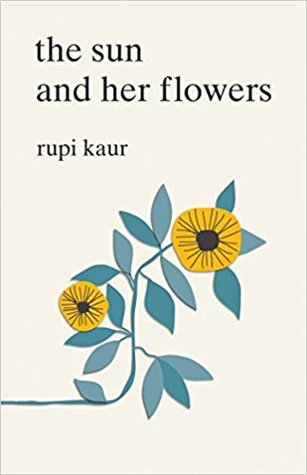 "
Divided into five chapters and illustrated by Kaur,
the sun and her flowers
is a journey of wilting, falling, rooting, rising, and blooming. A celebration of love in all its forms."
Like many others, Kaur won my affections with Milk and Honey and I couldn't stop myself from purchasing The Sun and Her Flowers as soon as it was released. Unike Milk and Honey, I read this book in a couple of sittings instead of all at once for a couple of different reasons.
To start with, it seems a little longer than her previous work, both in page count and word count. There were a few longer poems, which made a nice change from the usual few sentences that 'insta-poets' seem to share a lot of lately. The other reason it took me a few sittings to read was that the first few chapters didn't hook me quite as quickly as Milk and Honey did. However, by the third chapter, I was reminded why I love Rupi Kaurs' work.
Though Milk and Honey is easily my favourite, if you're a fan of Rupi Kaur, The Sun and Her Flowers is worth a read.
It Only Happens in the Movies by Holly Bourne
"
Audrey is over romance. Since her parents' relationship imploded her mother's been catatonic, so she takes a cinema job to get out of the house. But there she meets wannabe film-maker Harry. Nobody expects Audrey and Harry to fall in love as hard and fast as they do. But that doesn't mean things are easy. Because real love isn't like the movies...
The greatest love story ever told doesn't feature kissing in the snow or racing to airports. It features pain and confusion and hope and wonder and a ban on cheesy clichés. Oh, and zombies... YA star Holly Bourne tackles real love in this hugely funny and poignant novel."
I've been a huge fan of Holly Bourne since the publication of The Manifesto on How to Be Interesting in 2014 and have made a point of reading everything she releases (though I fell behind in the last year and missed the latest two Spinster Club books). She's an auto-buy author. Her writing is funny, relatable and she tackles issues of interest to me, like mental health and feminism.
IOHITM is no different to any of her other books. By that I mean I find myself chuckling on every page and find myself in agreement with the characters. And, without being too spoiler-y, the best part about this book is that it finishes in a completely unexpected (but brilliant) way. Ten out of ten, would recommend.
Black Mad Wheel by Josh Malerman
"
From the author of the hit literary horror debut Bird Box ("Hitchcockian." —USA Today) comes a chilling novel about a group of musicians conscripted by the US government to track down the source of a strange and debilitating sound
The Danes—the band known as the "Darlings of Detroit"—are washed up and desperate for inspiration, eager to once again have a number one hit. That is, until an agent from the US Army approaches them. Will they travel to an African desert and track down the source of a mysterious and malevolent sound? Under the guidance of their front man, Philip Tonka, the Danes embark on a harrowing journey through the scorching desert—a trip that takes Tonka into the heart of an ominous and twisted conspiracy.
Meanwhile, in a nondescript Midwestern hospital, a nurse named Ellen tends to a patient recovering from a near-fatal accident. The circumstances that led to his injuries are mysterious-and his body heals at a remarkable rate. Ellen will do the impossible for this enigmatic patient, who reveals more about his accident with each passing day.
Part Heart of Darkness, part Lost, Josh Malerman's breathtaking new novel plunges us into the depths of psychological horror, where you can't always believe everything you hear."

Malerman is another auto-buy author of mine. His debut, Bird Box, is one of my favourite books. I've read and enjoyed his short stories, too, so as soon as I heard about Black Mad Wheel I promised myself I'd get it the moment it was avaliable... and then forgot to do it until now. As October is the month of all things spooky, I have to read some kind of horror book, right?
While Black Mad Wheel certainly isn't my favourite book from Malerman, I still enjoyed it. The writing style is the one I know and love, witty and poetic and full of imagery. As always, perfect for fans of psycological horror.
The Other Side of Having by Mick Mally
Netgalley
"In 'The Other Side of Having' Mick Mally encompasses the tensions of error and truth by fashioning them, as any good wordsmith can, into rhyme.
Mick Mally speaks in a strong, clear voice. His poems are honest expressions of honest emotions presented in traditional styles. He is sharing with us his perceptions of being a male human being in this most difficult time. We are honored and must listen and be touched. ~ Lucille Clifton, Poet Laureate and Nominated twice for the Pulitzer Prize for poetry.
Author Mick Mally is somewhat of a paradox. To most he's outgoing, friendly, extroverted… a 'people person'. To the few who know him, he's an introspective scarred bronze star recipient. He's sensitive, cares deeply for the less fortunate, and almost to a fault, the welfare of all living creatures. "
Rhyming poetry is not my favourite. Let me put that out there to begin with. Rhyming poetry is not my favourite, nor is poetry about lost love, which is what every poem seemed to be about (with the stand out exception of two or three). Having said that, I did like The Other Side of Having. I read it in one sitting, shared the funny poems with my partner and the sadder ones with twitter. By no means is this my favourite poetry book out there - but it's not bad and I'd probably recommend it to someone at some point.
Thirteen Reasons Why by Jay Asher
Netgalley
"
You can't stop the future.
You can't rewind the past.
The only way to learn the secret . . . is to press play.
Clay Jensen returns home from school to find a strange package with his name on it lying on his porch. Inside he discovers several cassette tapes recorded by Hannah Baker–his classmate and crush–who committed suicide two weeks earlier. Hannah's voice tells him that there are thirteen reasons why she decided to end her life. Clay is one of them. If he listens, he'll find out why.
Clay spends the night crisscrossing his town with Hannah as his guide. He becomes a firsthand witness to Hannah's pain, and as he follows Hannah's recorded words throughout his town, what he discovers changes his life forever."
I still haven't watched the Netflix series and I had this on my bookshelf for years without reading it, despite all my good intentions too. With the hype surrounding it, I was prepared for disappointment. Yes, it's the kind of book I enjoy reading, but too often the books that make it popular are trite and problematic.
Thankfully, this wasn't. Being told in a unique format helped the cause and, for once, having two points of view didn't bug me. The fact that they were tied seamlessly together instead of chapters apart really helped maintain the momentum of the story. There was also no set opinion on the matter of suicide being forced upon the reader. Clay experienced an array of emotions, from feeling that it was selfish to understanding that Hannah saw no other options. Beyond that, this book is educational - if you don't know the signs before reading, you will afterwards.
Overall, I really liked this book and would definitely recommend reading it, even if you're hesitant because it's so hyped up.
And that's a wrap! I don't anticipate reading much this month as I'll be participating in NaNoWriMo, but we'll have to wait until next month to see what - if anything - I read.
What's the best book you've read recently? Leave me a comment and don't forget to subscribe for more posts like this.